In today's fast-paced world, where fashion trends come and go, nothing sets you apart from the crowd quite like a custom watch. If you're on the lookout for a timepiece that not only tells time but also reflects your personality and style, look no further than BillowTimeWatch. In this article, we'll delve into the world of custom watches and explore why BillowTimeWatch is the perfect choice for watch enthusiasts.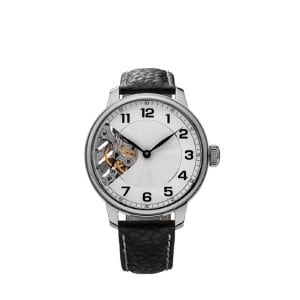 The Art of Custom Watches:
A custom watch is more than just an accessory; it's a piece of art. It allows you to express your individuality and creativity. At BillowTimeWatch, every timepiece is meticulously crafted with attention to detail and precision. From the choice of materials to the intricate design elements, these watches are true masterpieces.
Unleash Your Creativity:
With BillowTimeWatch, you have the opportunity to co-create your dream watch. Whether you desire a sleek and minimalist design or a bold and extravagant piece, their skilled artisans will bring your vision to life. From selecting the case, dial, hands, and strap to personalizing engravings, every aspect of the watch can be customized to suit your unique taste.
Quality Craftsmanship:
When it comes to custom watches, quality is paramount. BillowTimeWatch uses only the finest materials, including premium stainless steel, genuine leather, and scratch-resistant sapphire crystal. Their experienced craftsmen combine traditional techniques with modern technology to ensure that each watch meets the highest standards of durability and precision.
Exclusive Limited Editions:
BillowTimeWatch takes pride in offering exclusive limited editions that are not available elsewhere. These limited-edition timepieces are designed to cater to the most discerning watch collectors. Crafted in small batches, they boast exquisite detailing and innovative features, making them truly one-of-a-kind.
Superior Customer Experience:
At BillowTimeWatch, customer satisfaction is paramount. From the moment you start designing your custom watch to the after-sales support, their dedicated team is committed to providing a seamless experience. They value open communication and strive to exceed your expectations at every step of the process.
Timeless Elegance:
BillowTimeWatch understands that a watch is more than just a fashion statement; it's an heirloom that can be passed down through generations. Their timeless designs ensure that your custom watch remains a cherished piece for years to come. Whether you're attending a formal event or going about your daily routine, a BillowTimeWatch will always exude elegance.
Eco-Conscious Approach:
In today's environmentally conscious world, BillowTimeWatch takes sustainability seriously. They are committed to reducing their carbon footprint by utilizing eco-friendly materials and minimizing waste during the production process. By choosing a custom watch from BillowTimeWatch, you're making a statement not only about your style but also about your commitment to the planet.
A custom watch from BillowTimeWatch is more than just a timekeeping device; it's an extension of your personality and style. With their unparalleled craftsmanship, attention to detail, and commitment to customer satisfaction, they offer an experience like no other. Elevate your style and make a statement with a custom watch from BillowTimeWatch – the perfect blend of artistry and functionality.