Billow Time Watch Co.,Ltd is a professional OEM & ODM service provider for watches.
About Us
We are mainly producing high-quality 316 ,904 stainless steel,Bronze(Cusn8),Damascus steel,forged Carbonfiber,Ceramic customized watches.
The factory was founded in 2004, at Shenzhen China by four co-founders .We started out as a watch factory with 23 workers plus the launchers and 8 machines in total and polishing,drilling,QC , QA department without CNC,engineering,and international trading department.
With the popularity of the internet at 2010 in China,the visionary leaders were targeting overseas market meanwhile heavily investing in machines,techniques and channels developing customers.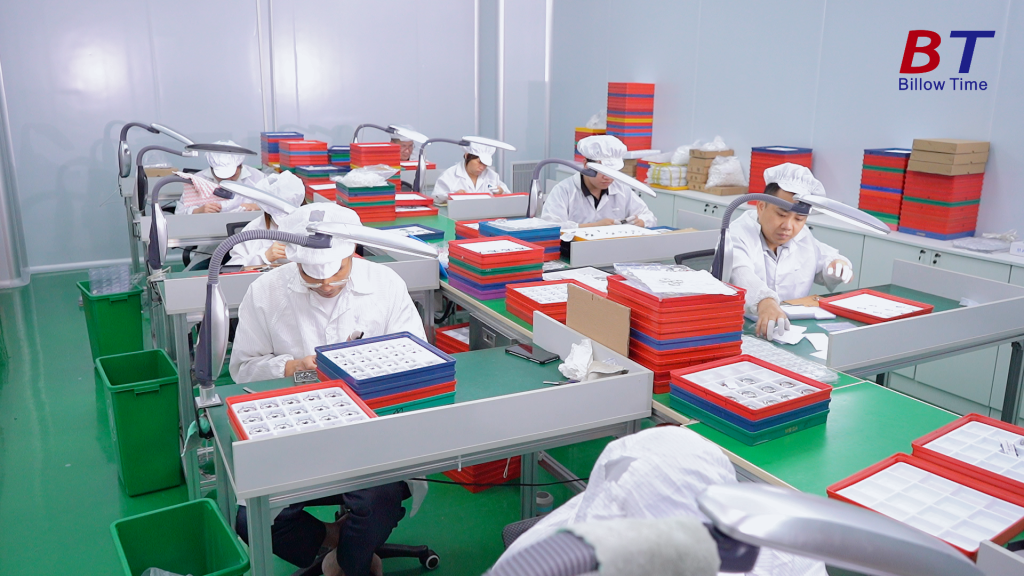 After development for 19 years under two generations,our company has more than 300 employees, established international trading , R&D,CNC as well as complete watch assembly and customer service department.
Backed by a group of excellent designers and technicians,in recent years, we acquired advanced hightech Swiss watch production technology to develop series of highly deep waterproof watches(carbon fiber, Damascus,Cusn8) and Swiss lumi dial watches.
Email:alber@billowtimewatch.com
These are our factory profiles in the videos:
1-R & D and Engineering department are in the factory so that they settle the problems during production quickly and communicate with the person responsible here.
2-There are many production lines-cutting,drilling,CNC,QC,polishing and half-finished assembly department.
3-We will test it at any stage especially waterproof test and the finished product assembly.
4-Our maximum waterproof test is 100 ATM(1000 meters) for automatic,quartz diver watches.
Factory Framwork
After years of development, our company has scientific management system, rich experience in the industry, professional technology.
Why Choose Us
Low MOQ and flexible delivery time