In the competitive world of watches, establishing a unique brand identity is vital for success. One powerful way to achieve this is through custom watch dial logos. By incorporating your logo onto the watch face, you can create a distinctive and memorable timepiece that sets your brand apart from the crowd.
Why Choose Custom Watch Dial Logos?
Brand Recognition: Your logo is the visual representation of your brand. By imprinting it on the watch dial, you reinforce brand recognition every time someone checks the time. This subtle yet effective marketing strategy keeps your brand at the forefront of customers' minds.
Uniqueness and Exclusivity: Custom watch dial logos give your timepieces an exclusive touch. Your watches become one-of-a-kind creations that customers won't find elsewhere. This sense of uniqueness fosters a deeper connection with your brand, encouraging customer loyalty.
Professional Aesthetics: A custom watch dial logo exudes professionalism and attention to detail. It shows that you've put thought and effort into every aspect of your watch design. This commitment to excellence resonates with customers and builds trust in your brand.
Branding Opportunities: The watch dial offers valuable real estate for branding. You can place your logo strategically and incorporate other design elements that align with your brand's visual identity. This opens up endless creative possibilities to craft a watch that truly represents your brand.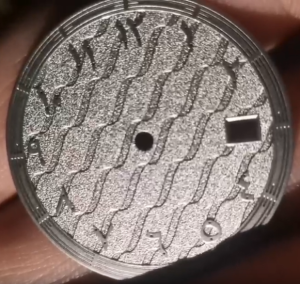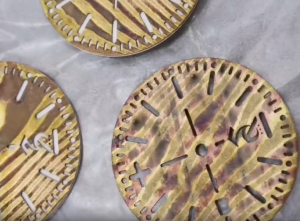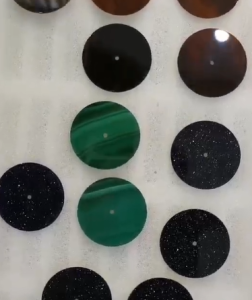 The Process of Creating Custom Watch Dial Logos
Design Consultation: Work with a skilled designer who understands your brand's ethos and goals. Discuss your vision, target audience, and any specific design elements you want to incorporate.
Conceptualization: The designer will create several design concepts for your custom watch dial logo. Review these concepts, provide feedback, and collaborate with the designer to fine-tune the design.
Mock-ups and Prototyping: Once you've finalized the design, the designer will create mock-ups and prototypes to give you a clear idea of how the logo will look on the watch dial.
Production: With the design approved, the production process begins. Skilled artisans or manufacturers will carefully imprint the custom logo onto the watch dials, ensuring precision and high-quality results.
Quality Control: Every watch undergoes thorough quality control checks to ensure that the custom logo is flawlessly executed. This ensures that only top-notch timepieces bear your brand's logo.
Make Your Mark with Custom Watch Dial Logos
In a market flooded with watches, custom watch dial logos offer an opportunity to make a lasting impression. Elevate your brand with personalized watch faces that reflect your identity, values, and dedication to excellence. Stand out from the competition and create timepieces that leave a mark on every wrist they grace.
Invest in custom watch dial logos today and let your brand shine through every second of time.